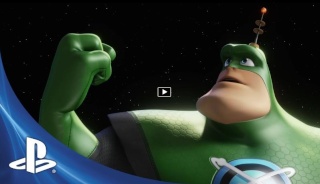 Today Around 10am US Central, Insomniac Inc, Rainmaker Entertainment and Blockade Entertainment Announced A Ratchet & Clank Movie Coming To Theaters By Early 2015 Via Facebook With A Link To A Trailer.. Starting With James Arnold Taylor as Ratchet, David Kaye as Clank and Jim Ward as Qwark.
Directed by Jericca Cleland, This Animated Film is the story of two unlikely heroes as they struggle to stop a vile alien named Chairman Drek from destroying every planet in the Solana Galaxy. Ratchet is the last of his kind – a foolhardy "lombax" who has grown up alone on a backwater planet with no family of his own. Clank is a pint-sized robot with more brains than brawn. When the two stumble upon a dangerous weapon capable of destroying entire planets, they must join forces with a team of colorful heroes called The Galactic Rangers in order to save the galaxy. Along the way they'll learn about heroism, friendship, and the importance of discovering one's own identity.
This Being Originally written by TJ Fixman, The man behind the story of the very 1st Ratchet And Clank on the PS2, is now going to be up in the big screen in the next 2 years with HD Definition and 3D Glasses.
I Always thought Ratchet & Clank would be a spectacular comedy movie for all-ages including kids and adults. For those who stopped playing the game and then falls in-love again with the movie, along with their kids. and with all the amount of R&C Fans out there, I'm pretty sure this film will be a success, "could be a way to expand the audience"
For This We Now know That 2015 Is Going To Be The Best Year For Movies, For Us Gamers Cant Wait To See One Of Our PlayStation Stars Going World-Wide The Next 2 Years in the film-marking business!
Here's Insomniac Games Announcement:
Make sure to subscribe and check out their latest news feed
@Facebook: https://www.facebook.com/insomniacgames?fref=ts
@Twitter: https://twitter.com/insomniacgames
@Blog: http://blog.us.playstation.com/2013/04/23/first-video-ratchet-clank-movie-hits-theaters-2015/
@IGN: http://www.ign.com/articles/2013/04/23/ratchet-and-clank-animated-movie-headed-to-theaters
@Forbes: http://www.forbes.com/sites/johngaudiosi/2013/04/23/sony-playstation-franchise-ratchet-and-clank-goes-hollywood-with-3d-feature-film/

ratchetandclankmovie.com