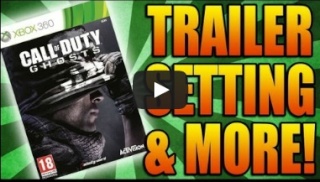 Hey guys, it's PastorZach bringing you an early review of the supposed new COD titled, Call of Duty: Ghosts. I've done some significant research on this, and am ready to give my opinion on it. I provided a video I found to help inform you.
Point 1. Is this legit?
I believe this is legitimate. The information was leaked and then confirmed by many different reputable sites, and since there are so many clear facts about this new game, it's pretty obvious that we have the real deal.
Point 2. What's new?
First of all, it has been stated that this new COD will NOT be a continuation of the Modern Warfare series. It will contain a new campaign that is not based on the previous Modern Warfare setting. I personally suspect that they will bring us back to our current dateline, and try to base the campaign off of more current event situation. I think they have worn out the futuristic warfare, with MW2,MW3, and BO2.
The article posted with this mentions a "New call of Duty engine". Is is possible that they mean something like Frostbite 2? Or perhaps a new HUD or play style? They weren't very specific. It is also possible they are referring to the new gaming systems coming out by Microsoft and Sony. Either way, this adds a bit of excitement for me, because the word NEW doesn't really go with recent Call of Dutys. So the fact that they are freshening things up makes me a little more optimistic towards the new game.
Point 3. Why should you choose this game?
As you all know, I have never been a fan of Call of Duty; but this one has me thinking. If the developers of COD have finally decided to make a new COD, and not some continuation of the same platform, maybe they finally are listening to the fans? I mean, everyone expected MW4, but COD chose to go in a new direction. I think the simple fact that they are bringing us something new is appealing. Next, the title. Ghosts. This title alludes to the idea that we will see a campaign and gameplay based off of stealth, and most likely some group of special forces. Perhaps it will be played around the Navy Seals, GROM, the Korean 707? Whatever they choose, I believe there is a bit of suspense in what they meant by choosing that title. Some think they are bringing back the COD character, call sign "Ghost". I disagree since it was clearly mentioned that this COD will NOT be based off of previous COD's.
To close up, I am suggesting we all keep a close eye on this game, I think it could be a really exciting release and something I would enjoy to play.
I hope this was helpful.