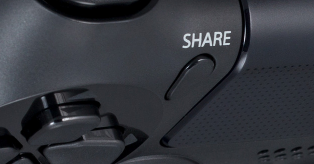 For those who are aware of the PlayStation 4 conference in late February, The Architecture Mark Cerny Announced the next gen system will have a feature called "the share button". that can record gameplay videos and upload them to facebook and also take screenshots with many other possibilities.
But Unfortunately, like you heard it, it might not be able to record everything you'd like, why? Well to an awesome feature there will always be limitations, not by the hardware, but by the developers.
In an interview with 4gamer.net, Shuhei Yoshida spoke more about the share button, and its limitations. What Yoshida says comes as no surprise that there is a drawback to an awesome feature.
Yoshida said:
There will be parts of a game that the maker does not want people to be able to see, for example, on Vita, developers can in certain scenes disable the feature that lets users take a screenshot, and will have a similar mechanism. The creator may not want to make video of the final boss sharable, for instance.
What he is saying, Game Developers can disable the share button in specific moments, such as playing the final boss, or anything that may spoil the post or game. This is not the first we've heard of such limitations, for example in some Vita games developers have the choice to disable screen-shots, parts of the game, or even throughout the whole game, Resistance: Burning Skies for example, where the developers disabled such feature.
Sad, but developers better know not disable anything while in multiplayer, because that's just bullshit. What If i wanted to share my best score on a team deathmatch or on FFA?. Hope this feature can share almost any game, any time without limitations, Including the new xmb of the ps4 would be stunning as well!
Then again on the bright side, video quality could become in better HD, according to Black Ops 2 rendering, the final video on youtube has horrible frame-rate 720p, maybe the share button will fix that into a good-looking 1080p video uploaded to youtube, which this means "no more video capture that can cost up to $200" and if you just want to edit the video u just shared, you can just download, edit & re-upload.
After All, Isnt this share button better than your xbox720 features? from what we heard yet, it only has 2 new feature: blue-ray discs and virtual gaming
Wait.. Did i just heard Blue-Ray Discs? yeah that's Sony's Creation, But Why?
Well Check This Story Out:
Kojima spoke on why the MGS: Legacy game isn't coming to the Xbox, and it's all because of 1 game….. Metal Gear Solid 4.
He said how that MGS4 was simply too big to be released on Xbox, and if it were to be ported over it would need 8 discs, being as MGS4 uses the whole 50GB of a duel layer Blu-ray disc, and a single Xbox disc has a capacity of 7GB.
Well it seems that Microsoft is finaly fixing this problem

:
---
Speaking About the new xbox, Rumors has come that not just only Xbox720 is a name, but also Xbox 8, Xbox Infinity or could it be Xbox Fusion?
And it is still a mystery of its true name, we cant find out what Microsoft Reveals On May 21th
According to multiple domain registrations it could be called the Xbox Fusion. The domains registered are XboxFusion.com, XboxFusion.info, XboxFusion.biz , XboxFusion.de and also XboxFusion.co.uk. At the moment, ALL links direct you back to the Xbox homepage website. (Link is to domain register, not Xbox homepage)
Comment In The Section Below Of What You Think Of The Share Button? Or Will Xbox Have One Too?