For more information just make a post asking or send me a private message. This isn't a joke, its real. Socom, is BACK.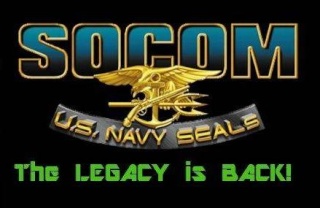 After the shutdown of the online servers on Socom Fireteam Bravo 3, many socomers chose to adandon the franchise. Even the more loyal ones, after seeing Socom 4 produced, chose to leave socom after seeing what it had become. But there are those, who still believe that a new, better Socom can be made. To right the wrongs of Slant Six, and the late Zipper Interactive developers. Yes, you heard me right. Socom is back!
After 2 years, a new socom has finally been birthed. Complete with new, realistic campaign; an interactive and intense multiplayer and co-op experience; and new features in both the story and gameplay; this is by far the best socom ever made.
Socom Legacy totally changes the way you play. Where as in the original games, you could pretty much run and gun, glitch around and achieve victory in just about any way possible; this new game requires complete teamwork, constant communication, and much time planning and preparing for the mission at hand. You aren't just a player anymore. you are a soldier.
Every multiplayer game is not based simply on a game modem, but it is an actual mission, which must be achieved by teamwork, It's an experience so dynamic and exhilirating that you will keep coming back for more. So for those of you who thought Socom was dead; you were wrong. After the long wait, and regrets of the past, the LEGACY has returned.
Original Source:
IMAGE